Departamento
Silvicultura / Académicos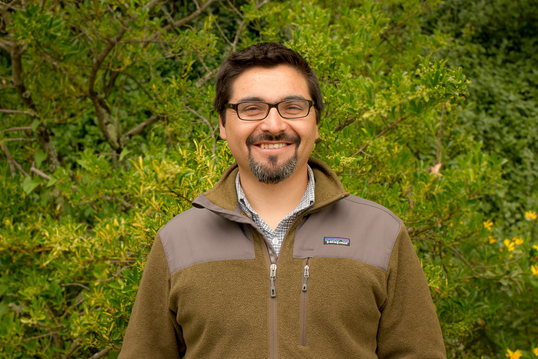 Felipe Aburto G.
Profesor Asistente
Ingeniero Agrónomo,
MSc. PhD. Soil And Biogeochemsitry, University of California, Davis.
Áreas de Investigación
Pedología y mineralogia de suelos
Biogeoquimica de suelos y bosques
Conservación y rehabilitación de suelos
Líneas de Investigación
Genesis de suelo y meteorización.
Ciclaje y dinamicas del C y nutrientes en sistemas edaficos.
Desarrollo de indices de calidad de suelos y recuperación de suelos degradados
Proyectos de Investigación Destacados
Effects of soil mineral -organic interactions on the long term soil carbon stability in temperate forest systems -To what extend does soil mineralogy modulates carbon turnover in natural and managed forest ecosystems? Investigador Principal FONDECYT Iniciación 2016.
Convenio Colaboración CONAF -UDEC. y Extensión 2018/2019. Evaluación del efecto de perturbaciones antrópicas en la regeneración de bosques cordilleranos de Araucaria en la Región del Biobío. 2014-2017. Director.
DFG-SPP Program 1803 P-4.. EARTHSHAPE Earth Surface Shaping by Biota. Project IV Bioscapes: Biotic Effects on sediment storage and connectivity in river catchments across timescales.   2016-2018. Co-investigador.
DFG-SPP Program 1803 P-10.. EARTHSHAPE Earth Surface Shaping by Biota. Project 10: Phosphorus solubilization by microorganisms and plants at different stages of soil development. 2016-2018. Co-investigador.
CONVENIO Investigación ENDESA- UDEC.. Mecanismo de compensación para la restauración de servicios ecosistémicos a través de la reforestación con especies nativas de Roble, Raulí y Coihue. 2016-2021Director.
Fondequip EQM150018.. Incorporación de parámetros isotópicos y nutricionales de rápida determinación para evaluar la sustentabilidad hídrica y nutricional de especies forestales. 2016-2018.Co-Director.
Últimas Publicaciones
Aburto, F., Southard, R. (2018) Soil mineral transformations and long-term weathering rates in tills in the Lake Tahoe Basin – California. (In review) Geoderma.
Calderon, A. Bambach. N. Aburto, F. Calderon, M. (2018) Post-veraison Water Stress Synchronizes Color Development among Berries in Crimson Seedless Grapevines. (In review) American Journal of Enology and Viticulture.
Bernhard N,. Moskwa L., Schmidt K,. Oeser R., Aburto F,. Bader M,. Baumann K,.  Von Blanckenburg F., Boy J., Van den Brink L., Brucker E., Canessa R.,  Dippold M.,  Ehlers T., Fuentes J,.  Godoy R., Köster M., Kuzyakov Y.,  Leinweber P,. Neidhardt  H,. Matus F., Mueller C., Oelmann Y.,  Oses R., Osses  P.,  Paulino L.,  Schaller M.,  Schmid M., Spielvogel S., Spohn M.,  Stock D., Stroncik, N. Tielbörger, K. Übernickel, K. Scholten, T., Seguel O., Wagner D,  Kühn  P. (2018)  Pedogenic and microbial interrelations to regional climate and local topography: new insights from a climate gradient (arid to humid) along the Coastal Cordillera of Chile (In Review). Catena.
León Muñoz J., Echeverría C., Fuentes. R., Aburto F. (2017). How is the land use-cover changing in drinking water catchments in the coastal range of south-central Chile (35° – 38.5° S)? Bosque 38(1):203-209
Aburto F., Southard R. (2017) Refined geomorphologic interpretation of lake tahoe basin glacial deposits using combined soil development indices and lidar terrain analysis.  Soil Science Society of America Journal. DOI: 10.2136/sssaj2016.07.0211