Departamento
Manejo de Bosques y Medio Ambiente / Académicos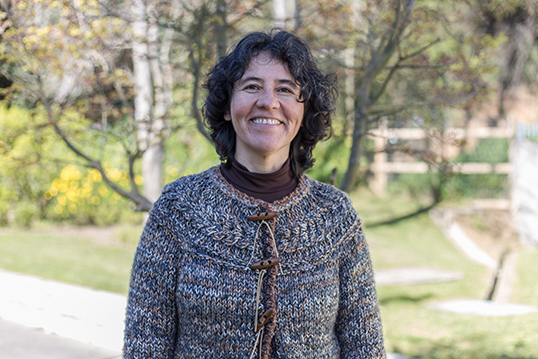 Rosa Alzamora Mallea
Profesora Asistente
Ingeniera Forestal, Universidad Austral de Chile, Chile.
Magíster en Economía Agraria, Pontificia Universidad Católica de Chile, Chile.
PhD in Forestry, University of Canterbury, Nueva Zelanda.
Áreas de Investigación
Economía Forestal
Manejo Forestal
Política Forestal
Líneas de Investigación
Eficiencia en la producción maderera
Economía de la Silvicultura
Valoración de bienes y servicios en bosques naturales
Proyectos de Investigación Destacados
2021-2026 Centro basal de financiación ANID BASAL FB210015: Centro Nacional de Excelencia para la industria de la Madera. Profesor asociado.
2022 Proyecto INNOVA-Corfo: "Prototipo de cepillo dental de madera utilizando recursos madereros actualmente sin valor económico de la Región del Biobío", código 21SN2-200485. Investigador asociado .
2022-2020 Proyecto del FONDO DE INVESTIGACIÓN DEL BOSQUE NATIVO de CONAF: "Cadena productiva forestal de escuadrías pequeñas: potenciando el uso del bosque nativo" (N013/2017). Co-investigador.
2021-2020 INNOVA CORFO. South Rivers Toolbox: Modelo predictor de la morfodinámica fluvial para apoyar la gestión de cauces. (Código: 19BP-117424). Co-investigador.
2021-2019 IDeA de I+D 2019 de FONDEF. Development of a product for the control of Eucalyptus weevil, based on scientific evidence obtained from new metabolomics approaches (ID19I10206). Co-investigador.
2021-2018 Proyecto del FONDO DE INVESTIGACIÓN DEL BOSQUE NATIVO DE CONAF: "Desarrollo de un modelo de tecnologías sustentables y participativas para la restauración de bosques degradados de Roble Raulí y Coihue" (N010/2018). Co-Investigador.
2020-2018 Proyecto FONDECYT 1181915: "Changes in Pinus radiata metabolome as integrative strategy for understanding its defensive response and resistance to infestation by Syrex noctilio F.: A novel metabolomics approach". Concurso Fondecyt Regular. Co-investigador.
2017 Proyecto del FONDO DE INVESTIGACIÓN DEL BOSQUE NATIVO de CONAF: "Criterios y protocolos para caracterizar bosques de Roble-Raulí-Coigue, degradados y/o afectados por el cambio climático, en función de biodiversidad y valor" (N013/2017). Investigador principal.
Últimas Publicaciones


Gavilán, E. ., Alzamora, RM ., Apiolaza, LA ., Sáez, K. ., Elissetche, JP ., & Pinto, A. . (2023). Modelado de la influencia de las variables de troncos de pino radiata en la producción de madera estructural. Maderas-Cienc Tecnol , 25 , 1–10. https://doi.org/10.4067/s0718-221x2023000100402
Riquelme S, Campos JV, Pecio Ł, Alzamora RM, Mardones C, Simonet AM, Arteaga-Pérez LE, Rubilar R, Fiehn O, Pérez AJ. Sirex noctilio infestation led to inevitable pine death despite activating pathways involved in tolerance. Phytochemistry. 2022 Nov; 203:113350. https://doi: 10.1016/j.phytochem.2022.113350. Epub 2022 Aug 13. PMID: 35973612
Jasna V. Campos, Sebastián Riquelme, Łukas Pecio, Lubia Guedes, Claudia Mardones, Rosa Alzamora, Luis E. Arteaga-Pérez, Rafael Rubilar, Oliver Fiehn, Andy J. Pérez. 2022. Constitutive and inducible defense in Eucalyptus determines the feeding host of Gonipterus platensis, denoting specific plant-insect coevolution and a strategy for resistance improvement, Industrial Crops and Products, Volume 189.115811,ISSN 0926-6690. https://doi.org/10.1016/j.indcrop.2022.115811 
Alzamora, R. M
., Oviedo, W., & Rubilar, R. (2022). Life cycle analysis to estimate CO2 e emissions from forest harvesting systems in intensively managed Pinus radiata plantations. 
Scandinavian Journal of Forest Research
, 1-9

https://doi.org/10.1080/02827581.2022.2044901
Niklitschek, M., Labbé, R., Alzamora, R.M., & Vásquez, F. (2021). Effective Targeting and Additionality: Evaluating the D.L. 701 Reforms for Afforesting Erodible Land in Southern Chile. Land Economics 97(4), 745-767. https://www.muse.jhu.edu/article/848287
Alzamora, R. M., Becker, J. C., Escudero, M., & Rodriguez, A. A. P. (2021). Factibilidad técnico-económica de implementar LIDAR en una empresa forestal. Madera y Bosques, 27(2), e2721661-e2721661. DOI: https://doi.org/10.21829/myb.2021.2721661
Alzamora RM., Apiolaza L., Ruiz C. and Lanfranco D. 2020. Site, Tree and Silvicultural Factors Influencing the Infestation of Xylophagous Insects on Nothofagus Forests. Journal of Forest Research: Open Access 9: 226-226. https://www.longdom.org/open-access/site-tree-and-silvicultural-factors-influencing-the-infestation-of-xylophagous-insects-on-nothofagus-forests-53695.html
Alzamora, RM., et al. 2019. Modeling productive efficiency of lenga (Nothofagus pumilio) logs for solid wood production in the Chilean Patagonia. Revista Madera & Bosques, 25(3): 1-10. https://www.redalyc.org/jatsRepo/617/61762764005/index.html
Alzamora, R, Contreras, C. 2015. Valoración de diámetro menor, ramas y módulo de elasticidad en trozas de Pinus radiata mediante una regresión parcial. Revista BOSQUE 36(3): 543-547.
Pinto, AA, Alzamora RM, Apiolaza, LA. 2015. Using Conditional Value at Risk (CVaR) to select radiata pine trees for operational deployment. 2015. Revista BOSQUE 36(1):133-137.